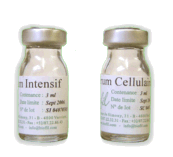 3 ml - 0,10 oz
Package for consumers and Beauticians
Description
Two phials are elabored for the interest of beauticians to personalize beauty parlour cares. theses phials can be used at home but only in cure.
Applications
Cellular Phial : This phials suits for calming and relieving congestion effects especially for inflamed or damaged and delicate skin. it can also suit in cure for avoid hair loss.
Intensif Phial : Suitable for anti-wrinkle, this phials has moisturing, healing, stimulating effects to regenerate epimerdic cells with a best tone of the skin.